We are a team of professionals with extensive management experience in designing customer solutions. Our expertise, gained over fifty man-years of experience in blue-chip organisations, spans,
Strategic Multi-Sourcing
Retail Market Development
Talent Search and Selection
Information Technology Management
Vendor Management
Process Design and Documentation
The cross-functional expertise in our organisation is best represented by its partners.

After graduating from Presidency College, Madras, Ravi joined the Sales division of Levers. The next 35 years saw successful stints in the FMCG, Office Automation and Executive Search industries with Levers, Canon Dynavox and Sanford Rose Associates. He was a pioneer in Office Automation, establishing a nationwide network and gaining a large base of satisfied clients in Government and Corporate sectors.

During his career Ravi has managed Sales, Marketing, Business Development, Customer Service – and mentored several Managers who are in senior positions today.

Ravi also provides property management services to NRIs and is developing an exclusive line of modular furniture.

R. P. Ravi Prasad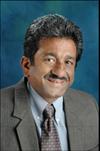 In 1986 he joined ANZ Grindlays Bank's Information Systems department, where he performed a variety of managerial roles in Development, MIS, Quality Assurance, IT Planning and ANZ's Commercial Banking System Project in Melbourne. In '98 he was selected as the Head of ANZ Grindlays' Sourcing unit in India and went on to serve as the Programme Management Office of SCB's international ISMS Multi-Sourcing Programme, before Ravi and he launched ProServe Management Services.
Binu also provides multimedia consultancy to software and content development firms.